Freight forwarding in closed train system, in inland, export-, import- and transit traffic
Details

Organization of intermodal and traditional railway carriage including on-going
monitoring of the cargo
Details

Design of specific cargo jobs including implementation, as required
Details
The XXII. Plenary Meeting of the International Association "Coordinating Council on Trans-Siberian Transportation" supported by CER Cargo Holding.
The plenary meeting of the transportation association (founded in 1993) Coordinating Council on Trans-Siberian Transportation, was being held in the Hungarian capital, which has the members of 105 from 25 countries. During the 2 days negotiations 250 delegated person took part, from 25 countries and were listening the presentation of CER Cargo Holding too. One of the main sponsor of the plenary meeting is CER group.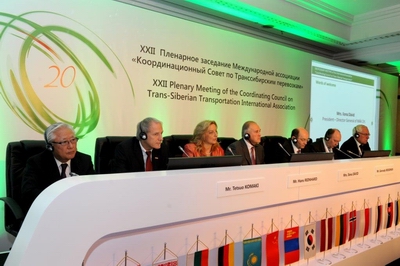 At the 1st day of the plenary meeting a presentation was being held by László Horváth the president of CER Cargo Holding. In his presentation, the owner of L.A.C. Holding briefly presented CER Group, respectively he gave his opinion, that the main natural route of the flowing of the goods by railway among the CIS countries, Western China and the South – Western European region is going through in Hungary via Csop – Záhony, and every local service provider, consider it a the potential possibility for the future. Mr Horváth expressed his regret, that in the last 20 years the usage of this corridor has been considerably decreased concerning many reasons, although in some cases it didn't make any sense. According to the president of CER, performing the Záhony Strategy, supported by the Hungarian government, is an encouraging fact.. Mr Horváth told to the delegates, that he sees serious potential possibilities, at the launching of the new planned forwarding corridor between western China and Europe via Kazakhstan.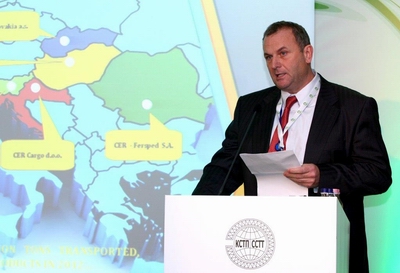 At the first day of the plenary meeting, Dr István Bárány, the general manager of CER Cargo Holding was negotiating with Alexander Misharinnal, with the vice president of the Russian State Railway (RZD). During the negotiation, the possibility of our group has come up as a topic. Both the vice president of RZD and the general manager of CER Group believed, that the biggest problem regarding goods transportation via Záhony, the shortage of the current volume of the goods.
The reasons are the following:
- the shortage of the wide gauge railway cars
- the high tariffs
- providing customs guarantee
The parties are agreed, that CER Cargo Holding, will bring the business opportunity, and RZD will give the support for carrying out these ones. Mr Bárány has been ensured by Mr Misharin, that is the very interest of RZD, that the flowing of the good would change from road to rail transportation, in a bigger and bigger volume.
During the negotiation with the representatives of Ukrainian Railway, also CER has been ensured about the support. As closing ceremony of the plenary meeting, CER Cargo Holding sponsored the lunch for the 250 delegates.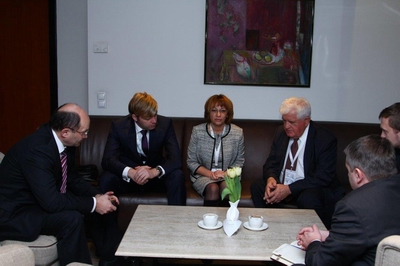 Photos: MÁV ZRT.
Back